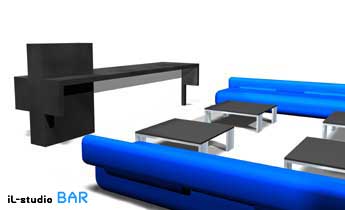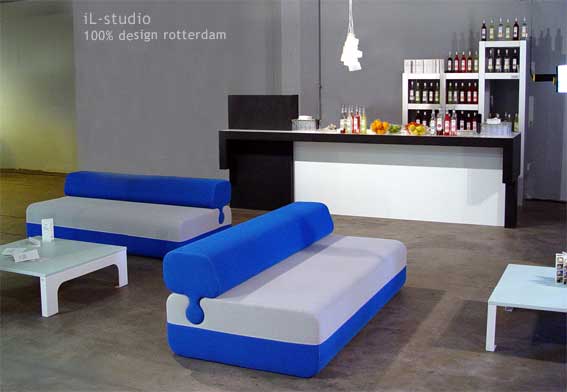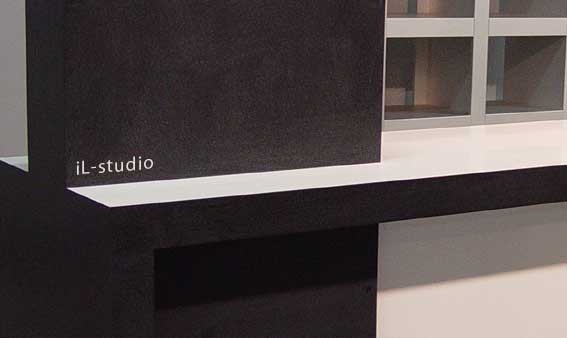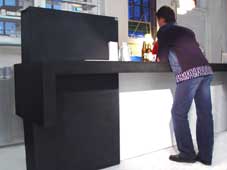 BAR

The Devil's Arm.
Counter made from Corian®, which evokes images of desolate bars in faraway countries. The concept of counter "The Devil's Arm" is a bar that is beautiful and self-evident. Beautiful so it will attract people to their goal in meeting, be it business, social or spiritual. Beautiful also because of the material used: Corian®, giving it a feel so natural that people feel at ease without realizing why at first.

When later they take in their surroundings, they find themselves at a bar that is self-evident because of it's strong form and appearance. An extended cross, referring to a special form of contact, a clear black & white colour scheme and material seemingly seamless, accentuating the form to the maximum. Black & White, really no escaping it.

Counter "The Devil's Arm" is inspired by the despair oozing out somewhere in the world. No love, no job, just a bar in just a village but always: alcohol. What is needed to let emotions flow over.


technical details

-The Bar is a Corian plate wide plus an edge of the front and back plates. And it is a Corian plate long plus edges of the side plates. It's height is 100 cm. which is a nice height to lean against a counter, but also provides a good height for barstools. - The Bar is made out of 100% Corian with only 1 metal part build in the top layer to make it flat and prevent it from bending. -We used a white top because of its characteristic to prevent noticable scratches. -In the vertical part of the cross, the beer taps can be hid, or the cash register. It will provide a fixed clean countertop.

dimensions 365 x 150 x 77 cm (wxhxd).
material Corian® Night Sky, Corian® Glacier White.

CONTACT address
iL-studio
Isabelle Leijn
www.leijn.com
Amsterdam
The Netherlands
tel/fax + 31 (0)20 6751654


Please mention our name and website; iL-studio and www.leijn.com, in any publication. Please sent us a copy of your article.

© Stichting Beeldrecht
Our copyright agency is Beeldrecht Foundation, Postbus 75982, 1070 AZ Amsterdam, the Netherlands tel.+31 20 3470565, please contact them for publication rights. All our designs are protected by copyright.